Best Military Surplus M7 Bayonet Grade 1 Black

Reminder
Our online store also sells ammunitions/ammo of different types and sizes.
To buy ammo/ammunitions now, visit http://shootarillusions.com
Product Overview
These U.S. Government-issued M7 Bayonets were designed for the AR-15, M16, and M4, with a unique, thinner blade profile and sharpened upper edge for enhanced penetration. The muzzle ring fits over the tip of the barrel and the handle of the bayonet has two-level locking mechanisms to secure it firmly to the rifle lug. The 1080 Carbon Steel with Zinc Phosphate finish is made to withstand the harshest conditions.
Features
6.6″ Blade with Over 2″ of Sharpened Blade on the Topside
Black Zinc Phosphate Coated Blade
Full Tang for Extra Strength
Grade 1: Excellent to New/Unissued – Military Surplus M7 Bayonets are genuine U. S. Government issued. Bayonets will be clean and show little signs of use. Small amounts of oil and slight blemishes may be present.
Grade 2: Good to Very Good – Bayonets may show signs of use. The handle may have painted numbers or initials on them. The blade may need a touch-up, but no serious nicks or blemishes on the blade.
Grade 3: Fair to Serviceable – Bayonets may have slight rust blemishes. The wire cutter on the end/tip of the scabbard may be damaged, but the blade will be fully enclosed. The handle may have painted numbers or initials on them.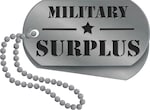 Made In the United States of America
Specifications
Product Information
| | |
| --- | --- |
| Condition | |
| Country of Origin | |