Best Hornady Critical Defense Ammunition 9mm Luger 115 Grain FTX Box of 25.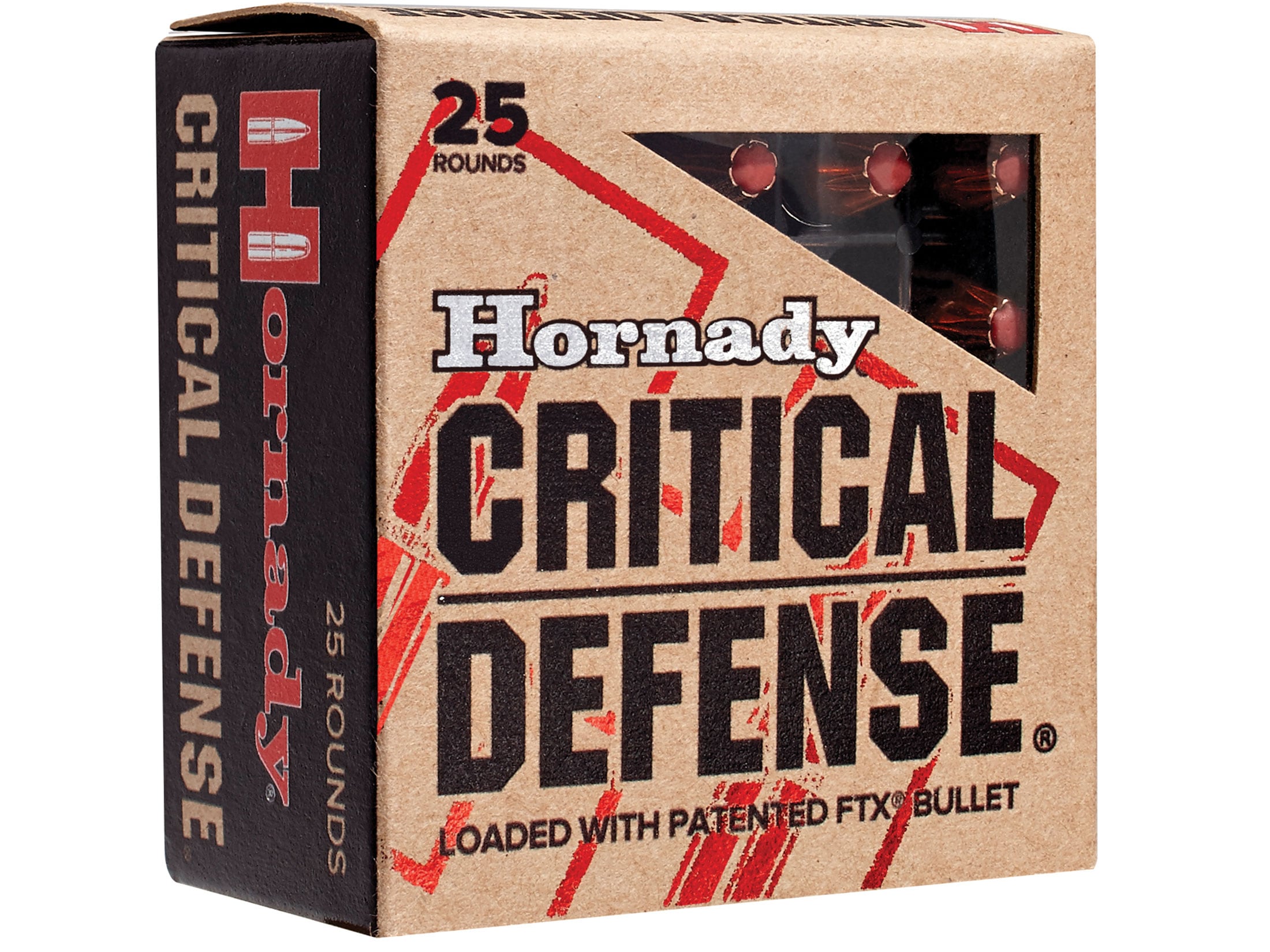 ReminderOur online store sells ammunition/ammo of different types and sizes.To buy, explore http://shootarillusions.comMake our online store your favorite store for ammunition/ammo.Buy you Hornady critical defense ammunition 9mm here now.
Product Overview
Hornady Critical Defense Ammunition was purpose-built for concealed carry guns and designed to deliver reliable and controlled expansion regardless of target every time. Critical Defense Ammunition is loaded with Hornady's bullet which has a soft polymer insert that delivers superior controlled expansion and large, deep wound cavities over a wide range of velocities. Each round is loaded with premium low flash propellants that deliver proven performance, even in very short-barreled handguns that will not disrupt your vision. This ammunition was designed by Hornady to expand every single time. This ammunition is new production, non-corrosive, in boxer primed, reloadable brass cases.
Features
Unaffected by thick and heavy clothing, including denim and leather
The bullet delivers superior controlled expansion and large, deep wound cavities over a wide range of velocities
Clean burning and efficient propellants reduce recoil in lightweight handguns and perform consistently at all temperatures
Minimal muzzle flash protect night vision
Feeds reliably in pistols
Bullets are custom designed for individual loads
Effective, consistent, reliable self-defense ammunition
Notice From Hornady: Temporary suspension of nickel-plated cartridge cases for Critical Defense® Handgun Ammunition 5/25/21
Unfortunately, everyone is faced with production bottlenecks, and supply chains are stressed. In particular, the freight system is delayed longer than normal. Our current turnaround time on nickel plating cartridge cases is 4+ weeks. This delay has created a significant bottleneck in the production of ammunition.
Due to these issues, we will suspend nickel plating on all Critical Defense handgun ammunition to help reduce production time.
Please note, this is a temporary suspension. We will review in six months and plan to resume nickel plating when things return to normal.

Made In the United States of America